Dean's Message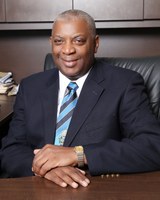 Welcome to the online home of the College of Business and Management (COBAM) at the University of Technology, Jamaica. 
COBAM is the national College of Business and Management in Jamaica, currently serving students from two cities, Kingston (the main campus) and Montego Bay. The College is the largest academic unit in the University, offering programmes at the undergraduate and graduate levels through its four schools:   
School of Business and Management:
Undergraduate Degrees with specializations in Accounting, Administration & Information System Management, Banking and Finance, Human Resources Management, Marketing, Production and Operations Management, General Management, Economics, Leadership and Organizational Studies and Retail Management
School of Hospitality and Tourism Management:
Under-graduate Degrees with specializations in Hotel and Resort Management, Tourism Management, Meetings and Special Events Management, Culinary Arts and Management, Food and Beverage and Food and Beverage Management
Joan Duncan School of Entrepreneurship Ethics and Leadership:
Research and Consultancy in business related areas particularly Entrepreneurship Ethics and Leadership, Business Incubation Services and a Business Clinic for Small and Medium size Enterprises (SMEs)
School of Advanced Management:
Graduate Degrees with specializations in Entrepreneurship, Finance, General Management, Hospitality and Tourism Management, Marketing and Agripreneurship, DBA & PhD in Business Administration
COBAM sees its role in the development of the Jamaican economy as a centre for Innovation and Entrepreneurship in Business and Management and is the destination of choice for high-quality staff and students known for excellence in real world teaching, research, and service. We are deeply engaged within the communities we serve and our graduates are trained to work effectively in a changing and globalized workplace.
We invite you to visit one of our campuses where our faculty members and administrative professionals are eager to connect with you. Make the College of Business and Management the next step on your career path and let us shape you to become "The Solution". 
Paul Golding - Dean, College of Business and Management