Medical Centre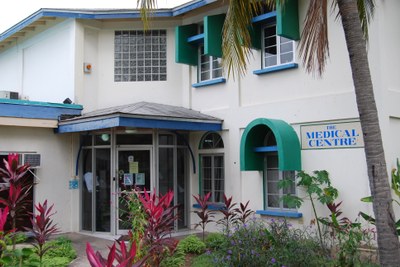 The Medical Centre continues to provide quality health care to the University Community. The team of health care professionals is multidisciplinary and the following services are offered:
Environmental Health
Family Planning
General Medicine
Medical Laboratory
Referrals
 OPENING HOURS:
| | |
| --- | --- |
| Monday | 8:00 a.m. – 4:00 p.m. |
| Tuesday | 8:00 a.m. – 4:00 p.m |
| Wednesday | 10:00 a.m. –4:00 p.m |
| Thursday | 8:00 a.m. – 4:00 p.m |
| Friday | 8:00 a.m. – 4:00 p.m |
| Saturday: | Closed |
---


MEDICAL LABORATORY SERVICES
Service is available on weekdays between the hours of 8:00 a.m. – 3:30 p.m. Results of routine laboratory tests are usually available within 24 hours.
EMERGENCY SERVICES
Persons with life-threatening emergencies who visit the Health Centre receive supportive care and are then transferred via ambulance to the Accident & Emergency Department of the University Hospital of the West Indies.
ACCESSING MEDICAL SERVICES
All users of the Medical Centre are required to make an appointment by sending an email to utechmedcentre@utech.edu.jm or call  
Your health insurance and student identification cards are necessary for each visit.
STUDENT HEALTH INSURANCE PLAN
All registered students are provided with a health insurance card which can be used at any health care provider. Please note that some providers only accept cash/debit/credit cards as payment. If this occurs, ask for a signed receipt in order to make a claim against the health insurance provider.
There is a cost for services not covered by the health insurance plan however no cash is collected at the Medical Centre.
STUDENT REQUIREMENTS TO ACCESS AND PARTICIPATE IN CLINICAL ROTATIONS
All students enrolled in health and allied health courses of study who are required to participate in clinical rotations within areas of the Ministry of Health must be fully immunized. Access to clinical sites will only be granted if immunization is current and covers the period of rotation.   Click here to visit 'Medical Centre Advisory - Immunization Requirements for Health and Allied Health Students' for immunization details.