TIC Honours Entrepreneurs at Client Awards Ceremony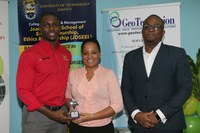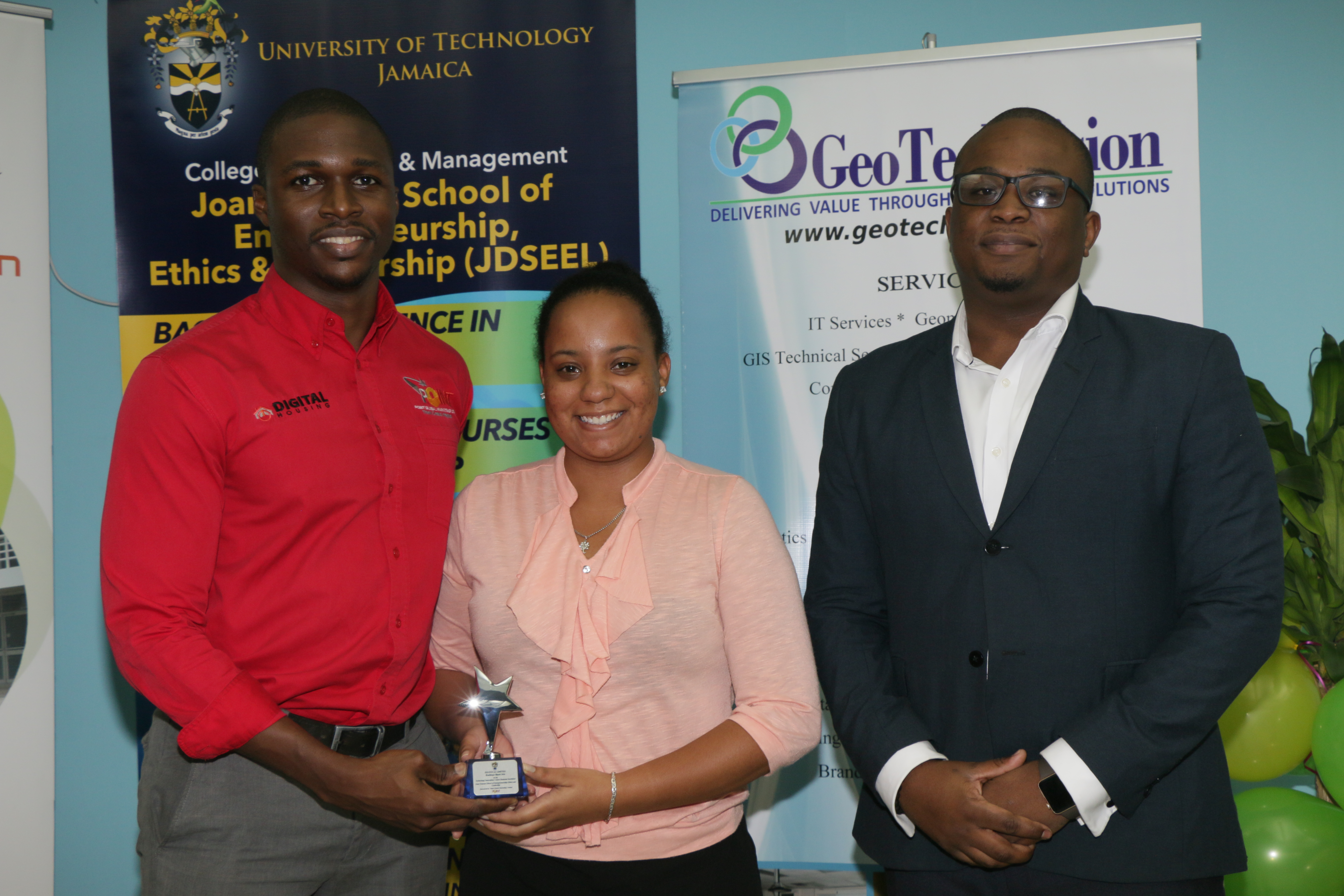 Entrepreneurial Trailblazers: Miss Krysta-Leigh Thames, Office Administrator, Edufocal Limited accepts the Trailblazer Award from sponsor, Mr. Ewan Campbell (left) of Point Global Marketing Limited. At right CEO, Mr. Gordon Swaby shares in the presentation. Edufocal Limited also copped the award for Top Client of the Year.
Outstanding 
entrepreneurs whose business ventures are incubated at the Technology Innovation Centre
(TIC), business incubator - a special unit of the Joan Duncan School of Entrepreneurship, Ethics and Leadership (JDSEEL), in the College of Business and Management (COBAM), UTech, Ja. were specially honoured at the TIC's  annual Client Awards ceremony held on Thursday, December 8, 2016 at the University's Papine campus.
The TIC recognised the achievements of current clients who were outstanding in their respective fields during this year, through the presentation of awards in five different categories. These were the Top Residential Client Award won by  
Stacy Kirk
, CEO of Quality Works Consulting Limited – a consulting firm specialising in software quality and process innovation; 
the Top  Platinum Client award presented to 
Wayne Harrison 
of International Work and Travel Service – a work and travel company focusing on tertiary level students; 
Top Virtual Client Award presented to 
Mark Williams
, proprietor of Elite Leaders International – trainers in cash flow management, entrepreneurship, investment, leadership, sales and marketing; the Top Anchor Tenant award which went to 
Dr. Kavian Cooke, 
Lecturer, School of Engineering and proprietor of Naivak Electronics – an electronic supplies company.  The Trailblazer Award as well as the Top Client of the Year Award was copped by UTech, Jamaica alumnus 
Gordon Swaby
, CEO, Edufocal Limited – an online social learning platform that combines study and play.
Awardees were judged on the criteria of achieving and surpassing goals and the extent to which they are making an impact on the wider Jamaican and global communities.
Ms. Novelette Cooke
, Programme Director, JDSEEL 
who delivered the welcome on behalf of Head of School, 
Mr. Michael Steele
, noted that the UTech , Ja. experience through the institution of an incubator has come of age having begun with the Entrepreneurial Centre some twenty years ago.  She explained that the TIC was established 14 years ago with the mission of creating an "efficient, profitable and innovative organisation promoting entrepreneurship through world class knowledge and development, technological and business support services serving our customers with the aim of increasing economic activities in Jamaica and the Caribbean through 
entrepreneurship.  Today the TIC continues to be regarded as a leader in the field of incubation.  Ms. Cooke commended graduates of the TIC whom she noted have contributed significantly to the knowledge bank in entrepreneurship within the incubator and have shared their experiences among students in the JDSEEL and beyond.
Prof. Rosalea Hamilton
, Vice President, Community Service and Development who represented Acting President 
Prof. Colin Gyles
 commended the TIC for its efforts in successfully carrying out its mission of nurturing young entrepreneurs at the growth and development stage of their start-up technology-based business ventures and asserted that the awards signify important achievement milestones.  She lauded the TIC for the work that it has been doing since 2002 in incubating external start-up businesses as well as business ventures by students and faculty at UTech, Jamaica. 
Prof. Hamilton specially commended TIC graduate companies Point Global Marketing led by
Javette Nixon
 who was among eight Jamaican entrepreneurs who were selected by the US Embassy in October 2016 to be part of President Barack Obama's Young Leaders of the Americas (YLA) initiative and 
Tyrone Wilson
, CEO, eMedia Interactive Group who recently partnered with the University College of the Caribbean (UCC) to offer a certificate media programme.  "These major milestones affirm UTech, Jamaica's significant investment in entrepreneurship education and signify tangible outcomes of the University's commitment to contributing to the capacity building of a strong MSME sector in Jamaica," Prof. Hamilton noted.
Guest speaker, 
Mr. Loren Edwards
, Senior Assistant General Manager, Retail Banking Division, National Commercial Bank shared insights on the imperative of using Information Technology to transform businesses for success in a globally competitive environment.  He pointed to the example of Net Entrepreneurs who profitably use the Internet to manage all aspects of their businesses, underscoring that IT is the "backbone of an ever changing world economy."  Lamenting that Jamaica lags behind at 83
rd
 position 
out of 139 countries 
on the world ranking of the 2016 Global Information Technology Report, while countries on top such as Switzerland, Finland and Singapore have taken advantage of combining entrepreneurship, IT and innovation in an effort to develop their economies, he called on young entrepreneurs to embrace these imperatives for the sustainability and success of their business ventures.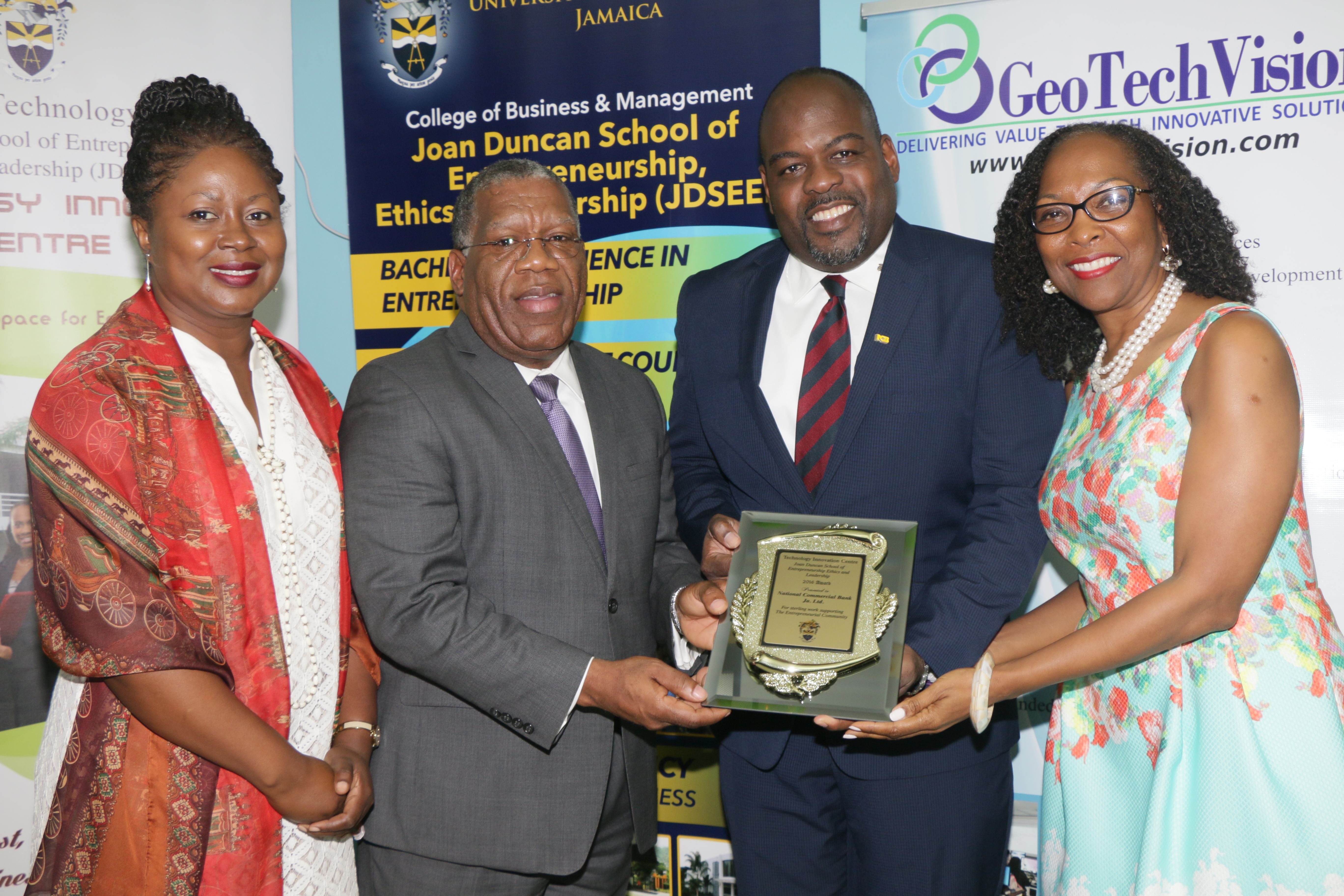 Mr. Loren Edwards (2nd left), Senior Assistant General Manager, Retail Banking, NCB and Mr. Dave Wilson (3rd left), Branch Manager, NCB, Matilda's Corner accept the award for their company's "sterling service in support of the entrepreneurial community" being presented by Prof. Rosalea Hamilton (right), Vice President, Community Service and Development, University of Technology, Jamaica (UTech, Ja.) at the Technology Innovation Centre (TIC) Client Awards held on Thursday, December 8, 2016. Sharing in the presentation is Miss Dionne Palmer (right), TIC Incubator Manager.
Over 260 Businesses Nurtured at the TIC
Miss Dionne Palmer
, TIC Incubator Manager provided the gathering of entrepreneurs, educators and members of the business community with an update on the progress being made by the TIC.  Commenting on the achievements of the graduates of the Incubator, Miss Palmer reported that over 260 clients have been nurtured in the residential, virtual and shared space programmes offered by the TIC since its establishment.  She noted with pride that graduates and clients have been impactful on the economy with some having gained equity and investment in their businesses and have been recipients of numerous local and international awards.  The Incubator Manager further reported that the clients of the TIC hire an average of 2 -5 persons, are all registered entities and generate a combined turnover of $20M on average per annum.  Miss Palmer disclosed that the Centre is working to strengthen its incubation programme for greater impact on the economy and the sustainability of the incubated business ventures and as such appealed for support through grant funding, mentorship, sponsorship and other forms of partnership.
UTech, Jamaica's Technology Innovation Centre (TIC) is the Caribbean's only business incubator of its kind.  Its mission is to impact entrepreneurs within the Caribbean region.  In this regard, the TIC continues to nurture entrepreneurs residing within and external to the University of Technology, Jamaica.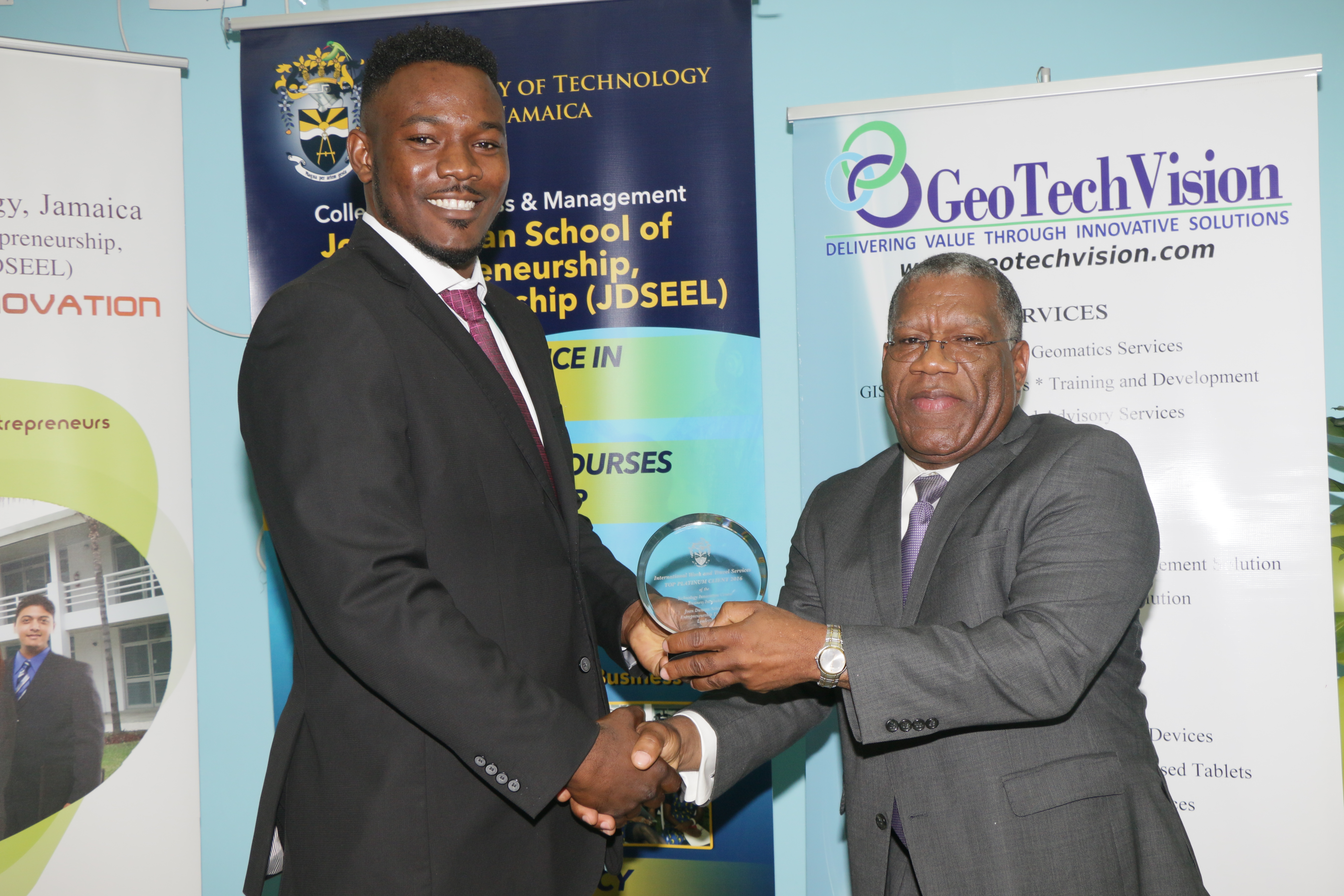 Mr. Wayne Harrison (left), CEO, International Work and Travel Service accepts the Top Platinum Client trophy presented by Mr. Loren Edwards, Senior Assistant General Manager, Retail Banking, NCB.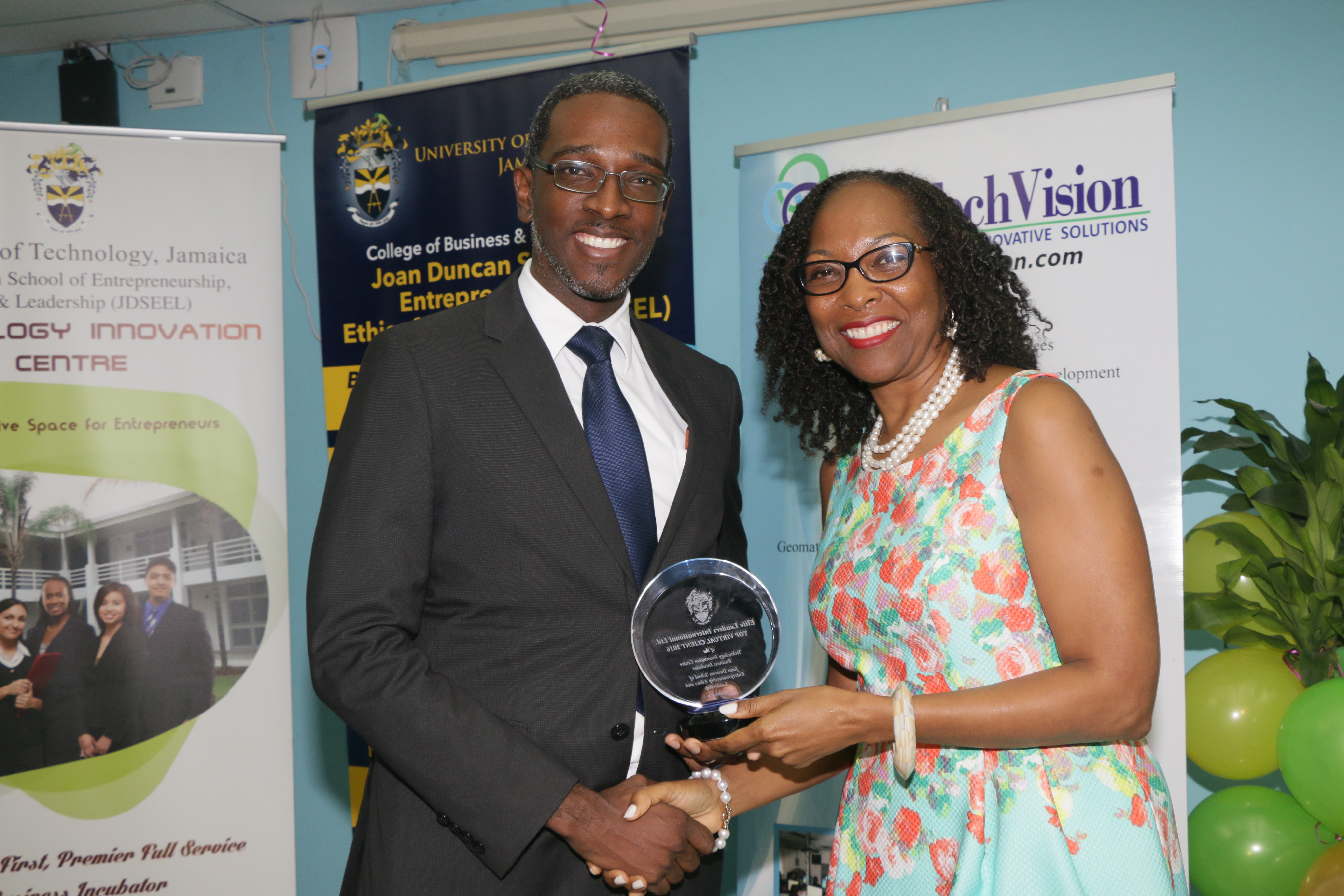 Prof. Rosalea Hamilton, Vice President, Development and Community Service presents Mr. Mark Williams, Proprietor, Elite Leaders International with the Top Virtual Client trophy.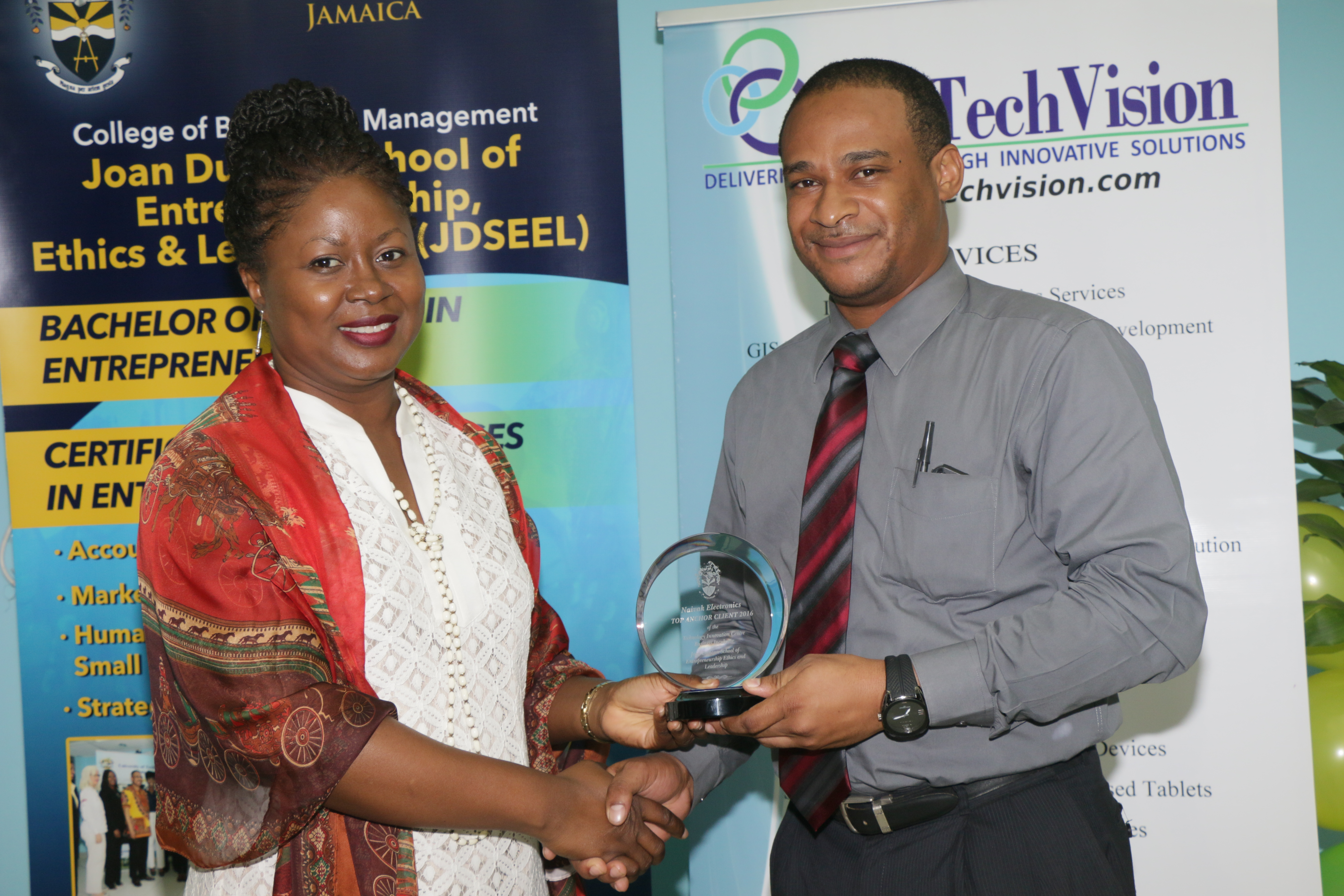 Top Anchor Client, Dr. Kavian Cooke, Lecturer, School of Engineering and proprietor of Naivak Electronics accepts his trophy from Miss Dionne Palmer, Incubator Manager of the Technology Innovation Centre.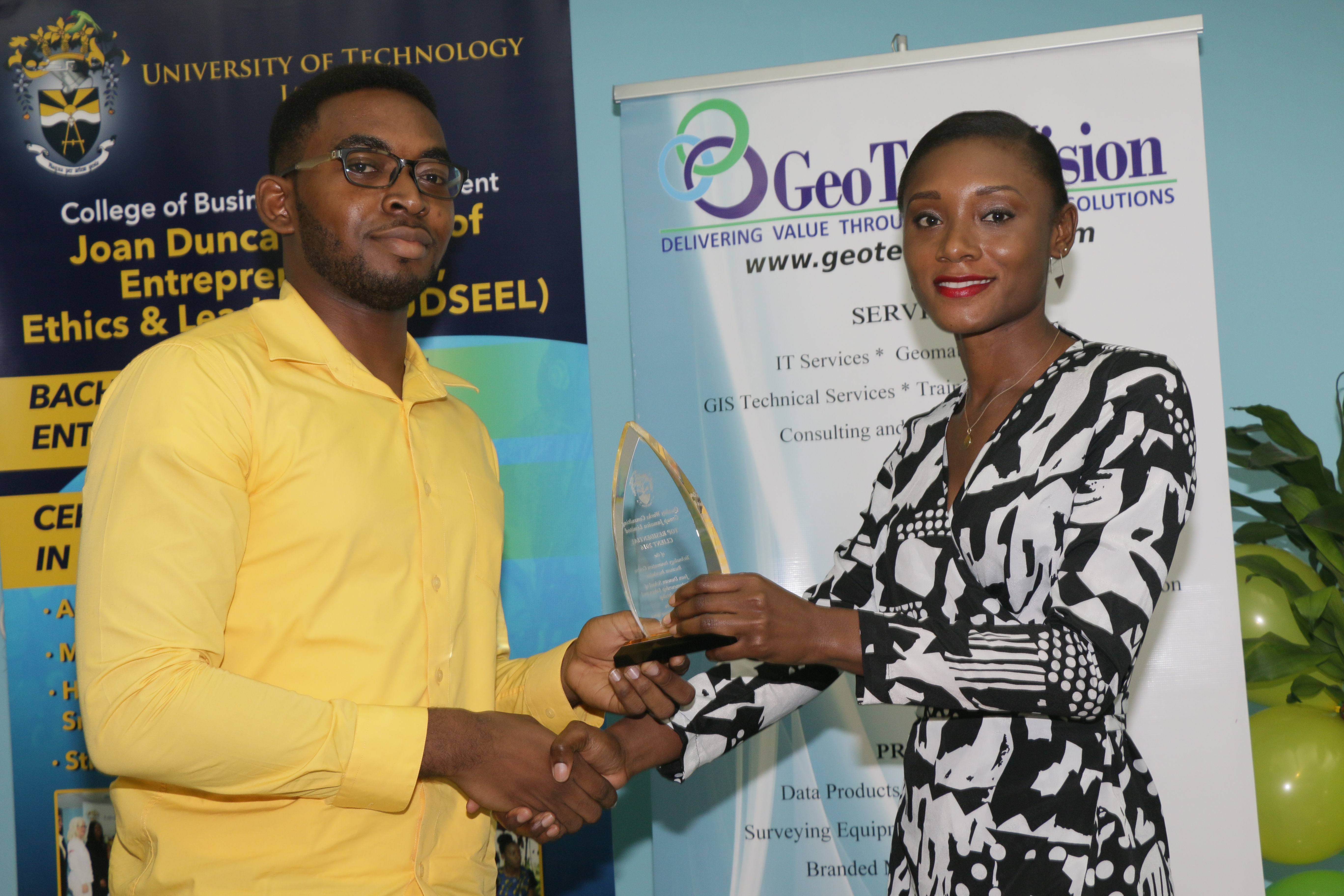 Mr. Gavin Samuels accepts the Top Residential Client award on behalf of Ms. Stacy Kirk, CEO, Quality Works Consulting Limited from Ms. Kayfia Meggoe, Marketing and Recruitment Manager, e-Media Interactive Group and ICREATE whose company sponsored that award.
End.
Contact:
Michelle Beckford (Mrs.)
Corporate Communications Manager
University of Technology, Jamaica
Telephone: 970-5299
Email: mbeckford@utech.edu.jm