UTech, Jamaica Hosts Annual Research, Technology and Innovation Day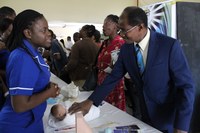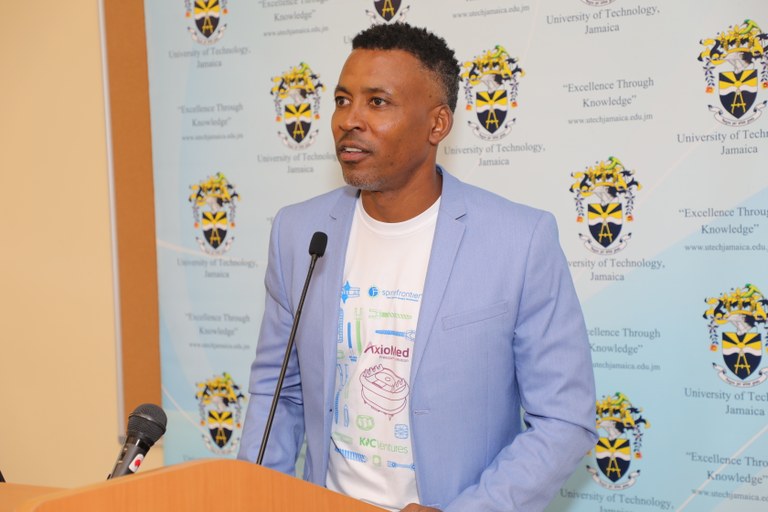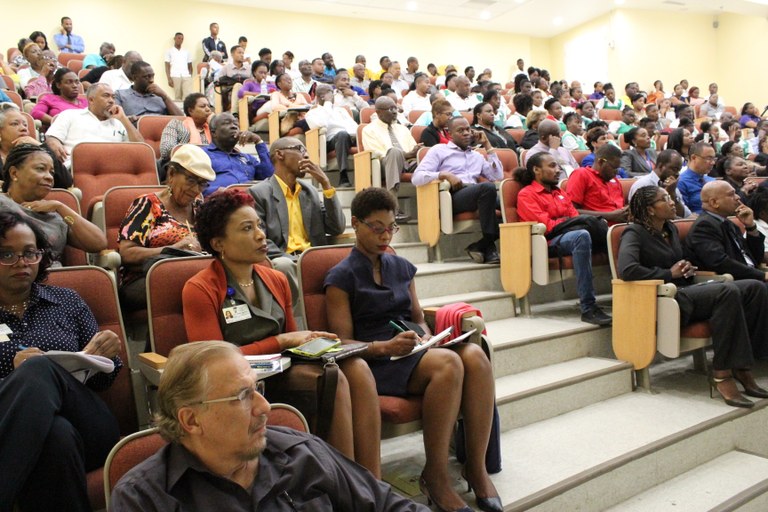 Dr. Kingsley Chin,  (at podium) USA-based Jamaican orthopaedic surgeon, scientist, inventor and entrepreneur has the rapt attention of the audience as he delivers an engaging keynote address titled, "Research & Innovation: Lab to Market or Research to Product," at the Opening Ceremony of the University of Technology, Jamaica's Research, Technology and Innovation Day held on Thursday, March 8, 2018 at the Shared Facilities Building, Papine Campus.
University of Technology, Jamaica through the School of Graduate Studies, Research and Entrepreneurship (SGSRE) on Thursday, March 8, 2018 led the staging of the University's annual Research, Technology and Innovation Day held at the new Shared Facilities Building, Papine Campus.
Held under the theme, "Pioneering Past; Bright future: six decades of impactful research and scholarly achievements" the one-day showcase comprised exhibits of cutting-edge research and innovation being undertaken by members of faculty, staff and students across the University's five colleges and three faculties.  Patrons of RTID including high school students and teachers, representatives of the business and scientific fraternities, members of the diplomatic corps and the general public also had the opportunity to participate in concurrent sessions running throughout the day, featuring presentations by members of faculty, staff and student researchers who elaborated on their work.
Chairman, RTID Planning Committee, Mr Martin Henry, Manager, Operations and Projects, SGSRE in his remarks at the Opening Ceremony noted the five consistent objectives of the one-day event, showcasing the capabilities of the University.  These objectives are:
To showcase recent results of research activities undertaken by faculty members and students
To demonstrative the facilities within the various units and other resources that are available to conduct research
To highlight existing research collaborations between the university, academic and industry partners
To attract potential research partners from academia and industry 
To promote the university's courses of study, especially graduate research degrees.
Professor Colin Gyles, Deputy President and Head, School of Graduate Studies, Research and Entrepreneurship, in his greetings, reiterated these objectives and asserted that "UTech, Jamaica is open for consultancy work to assist industry to improve its services and to help them to innovate."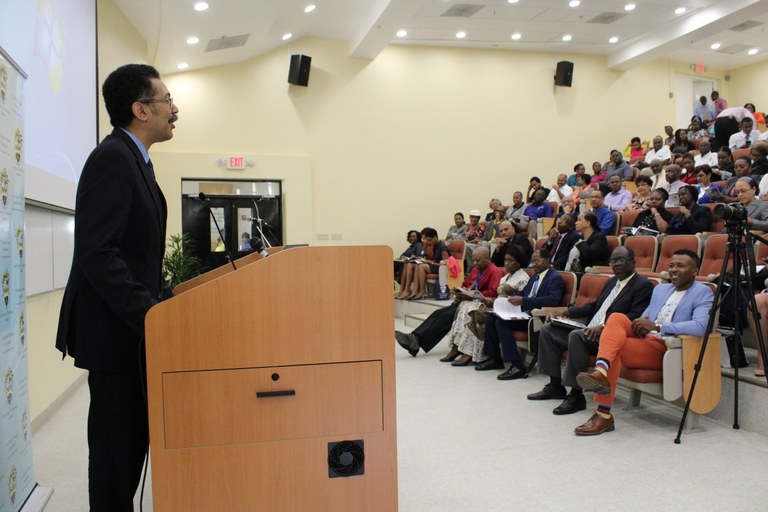 President, Professor Stephen Vasciannie, CD  addressing the Opening Ceremony of the University's  Research, Technology and Innovation Day.
Professor Stephen Vasciannie, CD, President, UTech, Jamaica in his address shared on a number of initiatives being pursued by the University to enhance its research output.  He thanked the SGSRE for organising the annual research showcase, noting that "research is entrenched in the mandate and mission of the University of Technology, Jamaica."  The President highlighted that "Universities live and die on the basis of their research output," adding that "we need to stress research and publications because universities exist not only to disseminate knowledge, but also to create knowledge."  Research goes towards the development of new knowledge and to the development of new ways of understanding the ways in which we live, work and do business," he noted.
The President noted further that "as we seek therefore to strengthen our capacity for the dissemination and creation of new knowledge in a global, knowledge-based economy, increased output of research and publications among members of faculty and staff is an imperative."  He pointed to some examples of areas requiring research, such as in identifying archaic and out-dated Jamaican laws, research on the housing stock in Jamaica and studies needed in all aspects of engineering for the benefit of Jamaica.
Professor Vasciannie told the gathering that among the initiatives being undertaken to respond to the challenge to increase research at the University, is the recent launch of the University of Technology, Jamaica Press on February 22. 2018  "to provide an outlet for University members to GET their work into the publishing world."  There has also been an increase in the allocation of funding provided by the University's Research Development Fund (RDF) and amendments to the arrangements for access to the RDF to make it easier for persons to apply for and receive grants from the Fund. 
The President also announced that since May 2017 the University has introduced a scheme of payments for published articles in peer reviewed journals.  "For each article published in a peer-reviewed journal, the sum of US$250 will be paid.  If the article is written by four authors, then each UTech, Jamaica author will receive one quarter of US$250,000, and so on," the President explained.
Keynote Speaker Urges Investment in Converting Research into Products
Keynote speaker at the opening ceremony was Dr. Kingsley Chin, MD, Managing Director and CEO, KIC Ventures Inc.  Dr. Chin is a USA-based Jamaican orthopaedic and spine surgeon, inventor and entrepreneur, who has leveraged his degrees in engineering and medicine with his business experience to found several enterprises.  A native of Portland, he attended Titchfield High School and later obtained Ivy League education and training at Columbia University, Harvard Medical School and the University of Pennsylvania.
In his well-received presentation, Dr. Chin shared his "research to product journey,"  highlighting why he has invested heavily in research. He also proffered some recommendations on what Jamaica must to do to propel research and innovation for economic growth of the country.
He pointed to such opportunities for development of products and services in healthcare technology and in health tourism.  He lamented that Jamaica  is yet to take full economic advantage of is natural resources in such products as coconut, a host of tropical fruits, in exporting water, and in marijuana research and development of products. Dr. Chin argued that "you must look around the corner to see what is coming…to help you to understand where you need to focus your research."  He added that Jamaica must "make a commitment to investing in research and to investing in converting research into products"  and underscored that individuals, government, universities and the private and public sectors must work together to achieve this objective.
Contending that "just one revolutionary idea can change the world," Dr. Chin encouraged the high school and tertiary students and academics present, "to figure out how you are going to develop a product that is going to make the life of people better." 
The successful innovator explained that this has been his driving force, leading to his holding of over 40 patents, over 35 products on the market and over 80 peer-reviewed published scientific articles. "I am constantly researching and publishing my results and developing product solutions," he noted, adding that "I did not obtain patents just to put on my resume, but for the purpose of developing products."
In 2005, Dr. Chin developed one of those patents into the MANTIS product (pedicle screw technology) and sold it to Stryker, making millions and positively impacting the lives of thousands of patients. In 2005 he founded KICVentures to invest in growing healthcare technology companies.
He noted that revolutionary ideas that become products have propelled humanity the farthest, citing such examples as the invention of the airplane by the Wright Brothers and the invention of the phonograh, the motion picture camera and light bulb by Thomas Edison, America's greatest inventor.  Encouraging students to research and to innovate, he argued that "you are not just here to pass, you are not here just to graduate.  You are in a privileged position as a student so when you go out there you can advance society." 
He encouraged the audience not to be discouraged from pursuing research because of perceived hindrances such as lack of funding, but to "start small before you go big," adding that "you don't need anything other than your mind.  Your mind is limitless, it's the things around you that limit your vision," he reasoned.
He also reminded the attentive audience of the importance of giving back, noting that "the journey of success that you have is not yours alone."
Dean of the Faculty of Science and Sport, Dr. Kamilah Hylton who introduced Dr. Chin, announced that the University will continue to benefit from his expertise,  having recently joined the Faculty as an adjunct faculty member.
Exhibition Highlights
An overhead shot of a section of the  exhibition space at Research, Technology and Innovation Day held on Thursday, March 8, 2018 at  the Shared Facilities Building.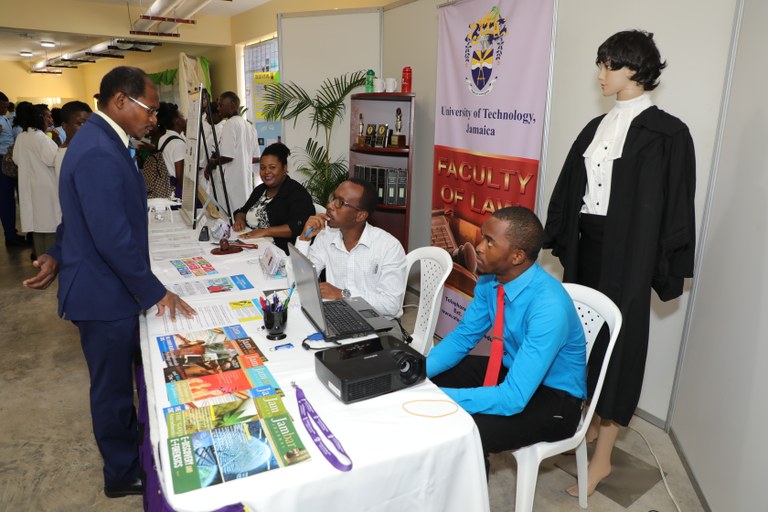 Legal Talk: Prof. Colin Gyles, Deputy President speaks with Law students,  (from left) Miss Jhenae Ricketts,  Mr. Mark Ellis and Student Affairs Assistant, Mr. Marlando Ashley at the Faculty of  Law's booth.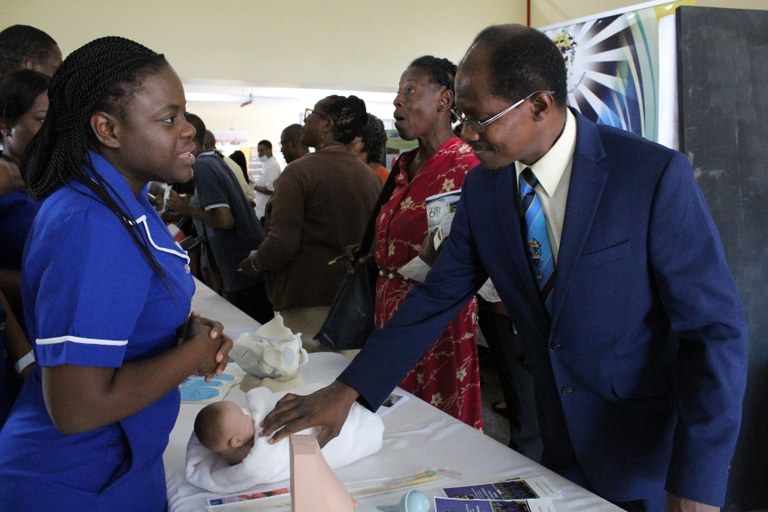 Baby Sim: Prof. Colin Gyles, Deputy President interacts with a Sim-baby at the College of Health Sciences' booth while midwifery student Leonicia South explains maternity care in infants and measures taken to protect women and babies in their care.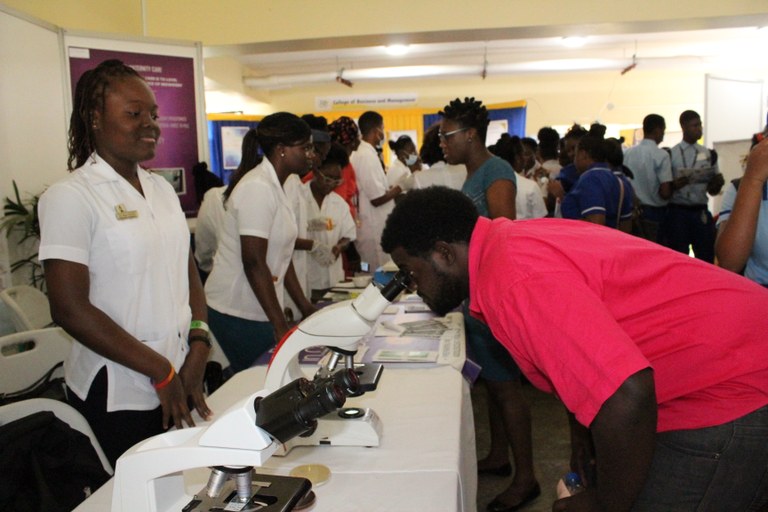 Looking at Blood Samples: A visitor looks at blood samples through a microscope on display at the College of Health Sciences' booth.  Looking on is Moresha Maxwell, Medical Technology student.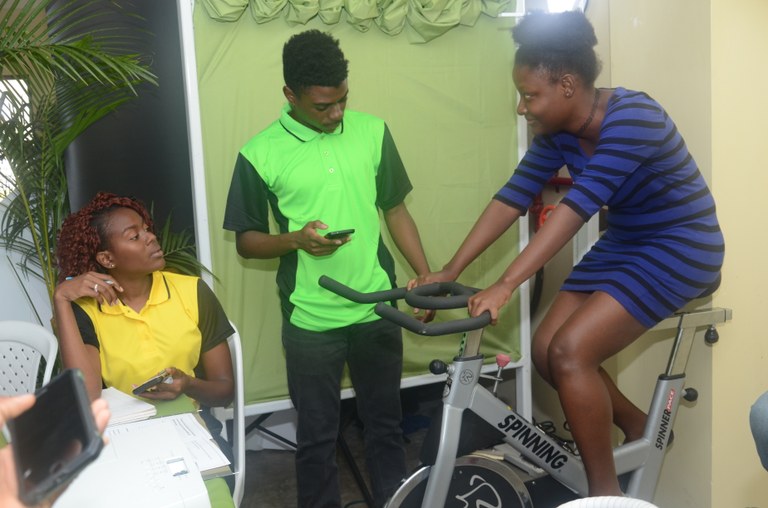 Heart Rate Monitoring: A patron at RTID tries out the spinning bicycle on display at the Faculty of Science and Sport booth while Shenir Hosten, (centre) FOSS student performs a heart rate monitoring accuracy test designed to ascertain the maximum heart rate at various levels of intensity, cadence and speed. Three devices, a Samsung Health App, Wrist Watch and a Chest Strap, were utilised in the testing to capture the data. Once collected, the data was used to assess the general health of the candidate using established guidelines. Participating in the data testing at left is Renae Williams, FOSS student.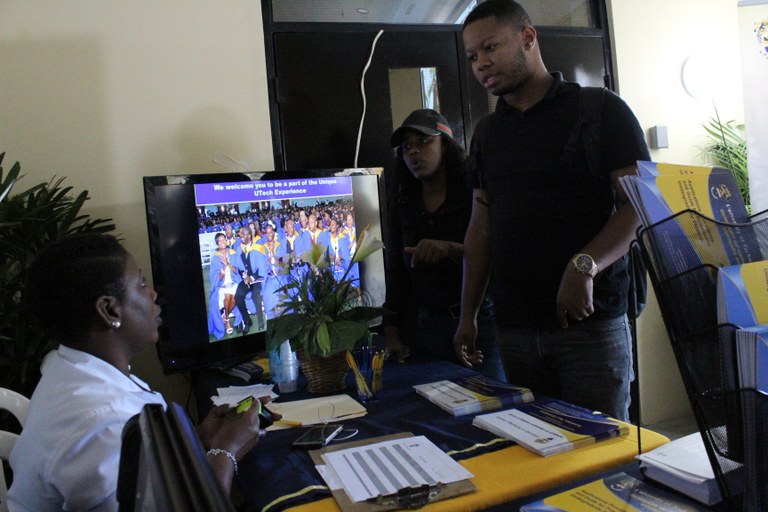 Miss Kerry-Ann White, Assistant Registrar, Recruitment shares information on UTech, Jamaica's courses of study with visitors at the Student Services booth.
Speakers Forum Highlights
A research speakers forum ran concurrently from 12 noon to 5:00pm during which UTech, Jamaica faculty, staff and student researchers engaged audiences on the value of their work in addressing real issues facing Jamaica and the Caribbean region.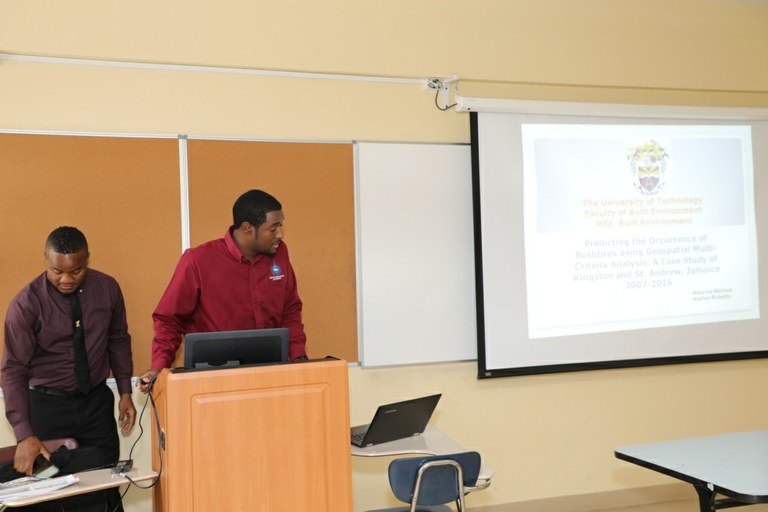 Using GIS to Predict Bush Fires: Graduate students from the Faculty of The Built Environment Raylon Ricketts (left) and Maurice Wallace presented their research on, "Predicting the Occurrence of Bushfires using Geospatial Multi-Criteria Analysis:  A Case Study of Kingston and St. Andrew. 2007 – 2016."  The researchers explained that the Multi-Criteria  Analysis Approach (MCA) along with Geographic Information System  (GIS) was used to create vulnerability maps indicating the degree of bushfire risks for communities in the parishes of Kingston and St. Andrew (KSA).  The technology is already being utilised by the MET Office to assist in bushfire control planning in the KSA.  The research was supervised by Mrs. Laurence Neufville, Head, School of Building and Land Management.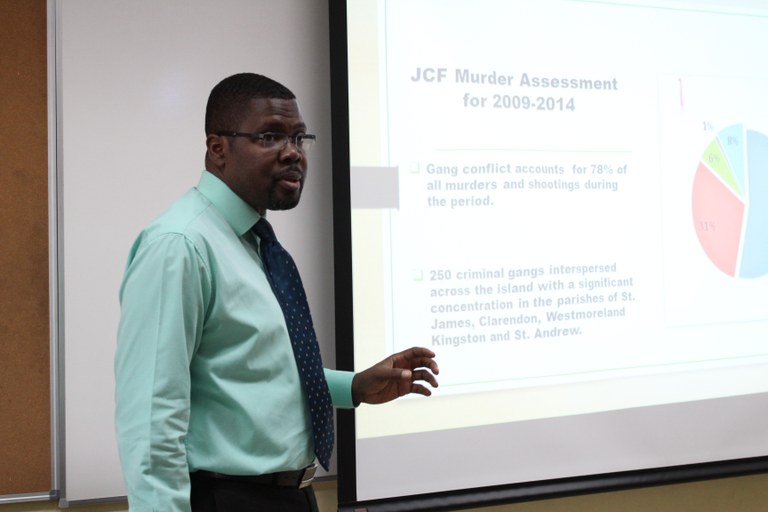 Gang Violence and National Security:  Mr. Henry Lewis, Lecturer, Faculty of Education and Liberal Studies makes his presentation on "Gang Violence and National Security in Jamaica; Implications for Achieving United Nations Sustainable Development Goals."  He presented data on understanding how gang violence poses a threat to national security and argued that improvement in national security and conditions of peace in Jamaica is a critical element in the realization of United Nations Sustainable Development Goals.
 STEM Education in Teaching and Learning: Mr. Dwaine Hibbert, Lecturer, Faculty of Engineering and Computing presented his research project on "Promoting STEM Education:  A Case Study on the Challenges and Opportunities in Integrating Desktop CNC Technology in Grades 7 – 9."  Mr. Hibbert says the project is geared towards providing a better understanding of how Computer Numerical Control (CNC) can provide a better understanding of how the technology may to expose students to the processes, technologies and tools in modern product design and manufacturing.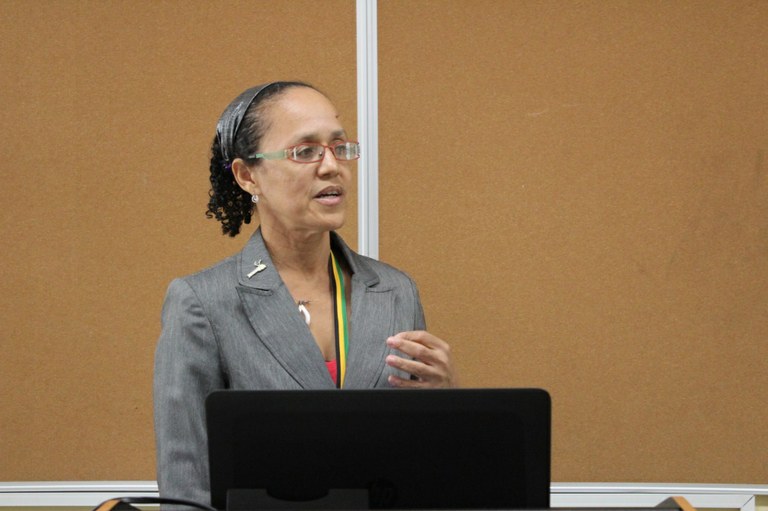 Computer-based  Health and Sports Informatics: Miss Susan Muir, Lecturer, School of Computing and Information Technology shared her presentation titled, "Towards impactful computer-based health and sports informatics interdisciplinary research projects for consultancy, entrepreneurship and philanthropy."  Miss Muir put forward a proposal for relevant research and development in health and sports informatics through the use of computer-based tools to build a research database that can drive improvements in health and sports performance.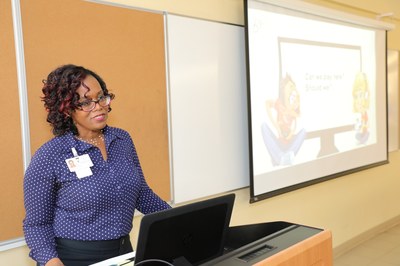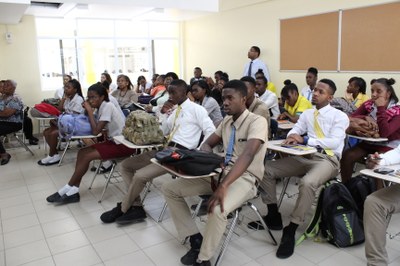 Gaming in Education: Mrs. Michelle Stewart-McKoy, Lecturer, Faculty of Education and Liberal Studies making her presentation on "Can we play here, should we? - Developing a Framework of Gamification in Higher Education."  Her paper examines the current state of play at UTech, Jamaica and presented a proposal for developing a Gamification Framework in Higher Education as a means of increasing learning engagement.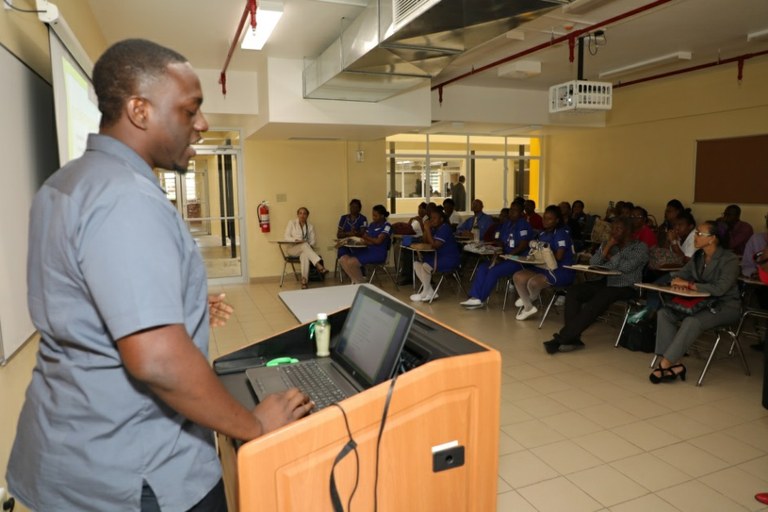 Opportunities in Cannabis: Mr. Rasheed Perry, Lecturer, College of Health Sciences shared his paper on "Mining Medicines and Wealth from Cannabis in Jamaica."  The exploratory paper describes the process of adaptation to take advantage of prospects for new businesses to bring investment, wealth and technical expertise to the University.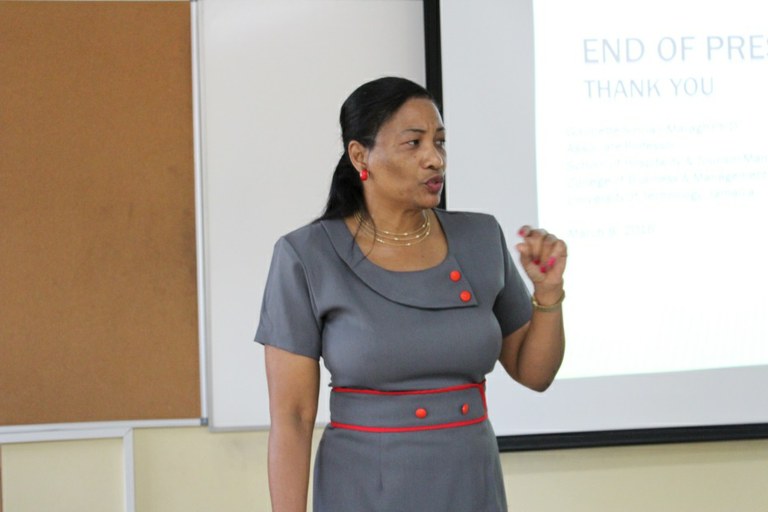 Ecotourism for National Development: Dr. Gaunette Sinclair-Maragh, Head, School of Hospitality and Tourism Management delivered a presentation titled, "The Dynamics of Ecotourism in Protected Areas."  She examined the role of ecotourism in contributing to environmental sustainability and economic development in protected areas, while cautioning that ecotourism can cause environmental ills not only to the ecology but also to the surrounding communities. She cited several examples, among them  threat of degradation caused by over-visitation, pollution of water sources and landslides, hunting and fishing and spread of litter at recreation sites.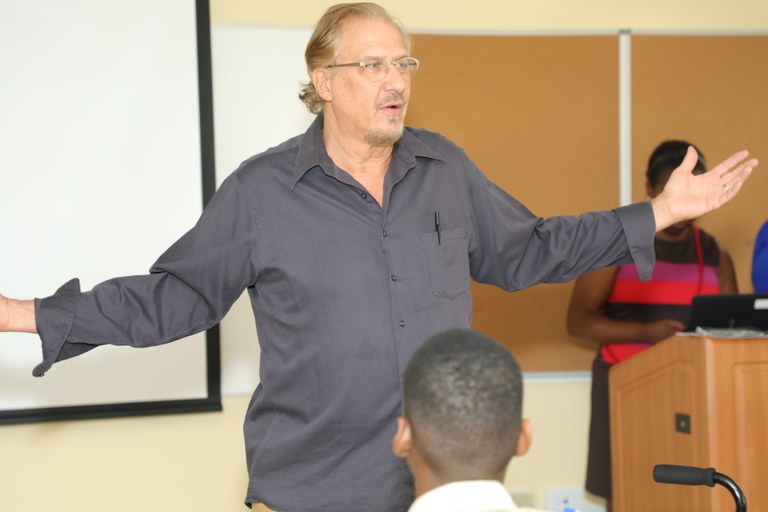 Bioethics in research:  An animated Dr. Martin Schade, Associate Professor, Faculty of Education and Liberal Studies gave a presentation on "Understanding Global Bioethics:  The Foundation of Research Ethics."  Dr. Schade underscored that all research ethics must understand the Bioethics four-principle approach of Autonomy, Nonmaleficence, Beneficence and Justice.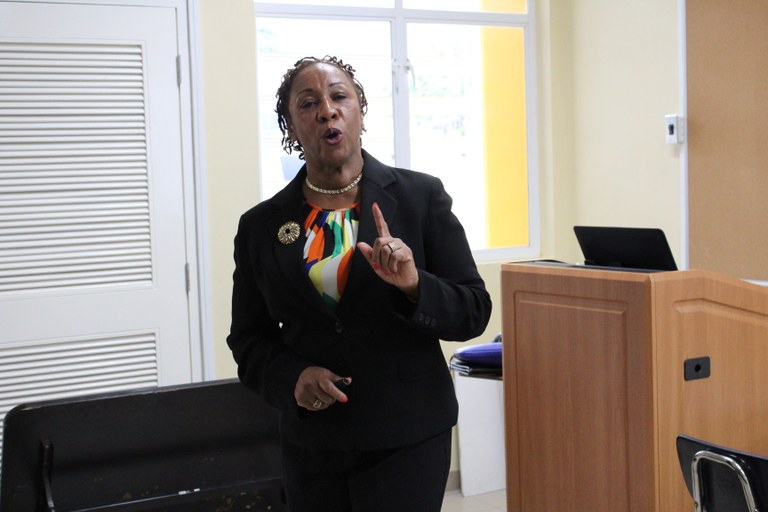 Digital Citizenship:  Dr. Andrea Barrett, Lecturer, College of Business and Management presented her research on "Digital Citizenship – Our Responsibility." She explained that with the convergence of technological advances there  needs to be an effective governance framework which guides the appropriate and responsible use of technology especially in the areas of  digital literacy, Internet etiquette, cyber security and ethical behaviour.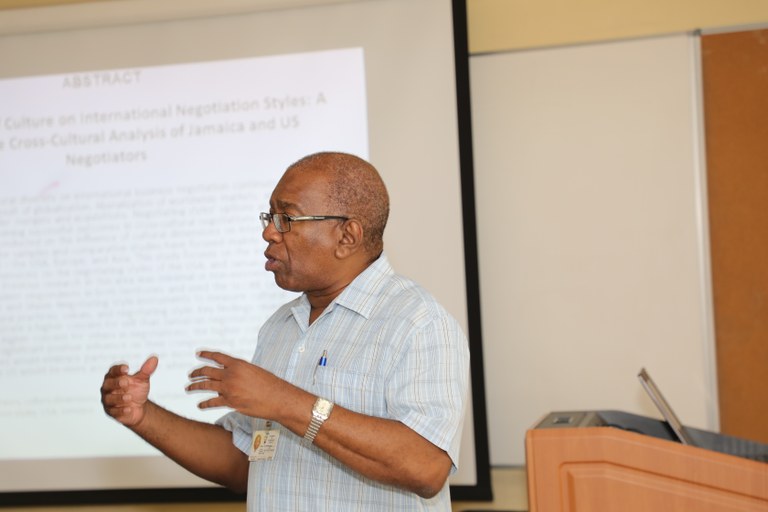 International Negotiating Styles in Business: Dr. Locksley Henry, Lecturer, College of Business and Management shared his paper titled, "The Influence of Culture on International Negotiation Styles:  A Comparative Cross-Cultural Analysis of Jamaica and the US Negotiators."  He argued that negotiating styles, options and choices are key factors in determining successful outcomes in cross-cultural negotiations.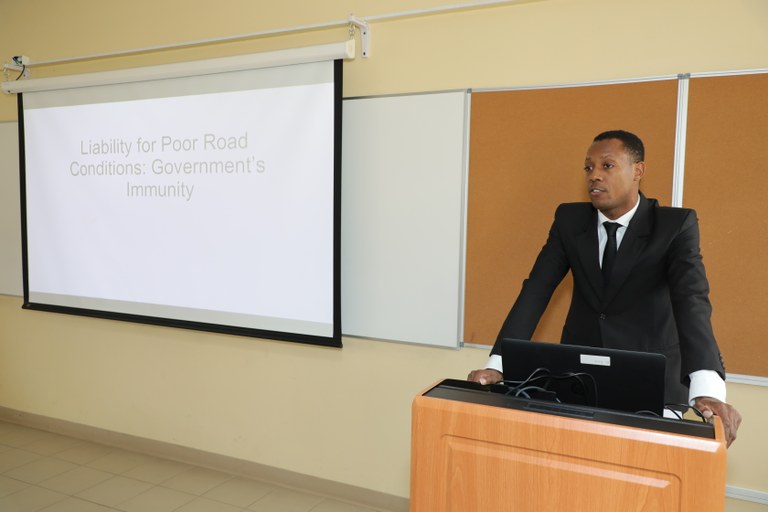 Amending the Roads Act to Protect Citizens:  Mr. Rohan Barrett, Lecturer, Faculty of Law in his presentation on "Liability for Poor Road Conditions:  Governments Immunity."  Mr. Barrett discussed the old tort doctrine of "non-feasance" with respect to liability of highway/road authorities and by extension the government for injury or loss arising out of a failure to repair roads and highways.  The Act essentially protects the state with immunity from liability. Mr Barrett called for an amendment to the Main Roads Act.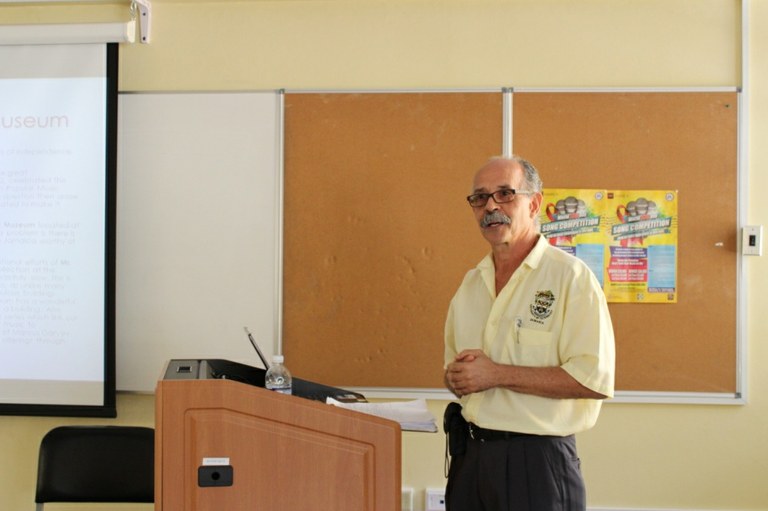 The Case for a Jamaica Music Museum: Mr. L. Mark Taylor, Vice Dean, Faculty of The Built Environment shared his paper on "The Case for a Jamaican Music Museum."  Mr. Taylor calls for the establishment a dedicated space for access to historical and current data and artefacts of  in honour of Jamaica's Music Industry.  The idea for the research paper resulted from the University's presentation of the Chancellor's Medal to the Jamaican Music Industry in 2012 in celebration of Jamaica's 50th Anniversary of Independence.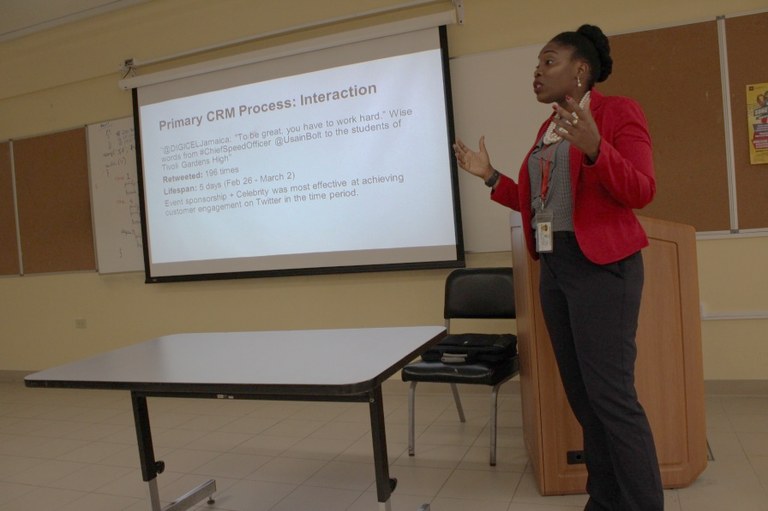 Building Brand Jamaica: Mrs. Donna Kelly, Lecturer, College of Business and Management in her presentation on " Building (an eventful) Brand Jamaica," called for an event leveraging strategy for Jamaica to take advantage of all the opportunities for growth in the Tourism sector.  This she says can impact the achievement of some of Jamaica's development goals.
Outside Broadcast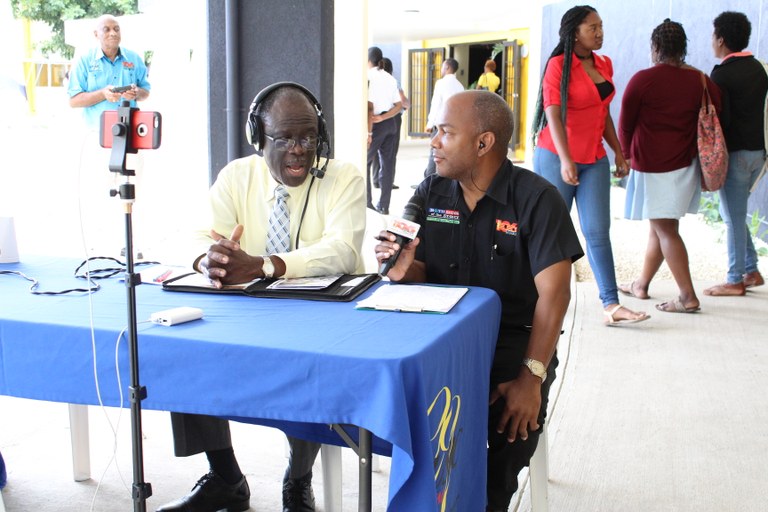 Mr. Martin Henry (left), Manager, Projects and Operations, School of Graduate Studies, Research and Entrepreneurship and Chairman, Research, Technology and Innovation Day Planning Committee in discussion with Mr. Dervan Malcolm, host of the programme, Both Sides of the Story,  Power 106FM, during an outside broadcast from Research, Technology and Innovation Day on Thursday, March 8, 2018.


SPEAKERS FORUM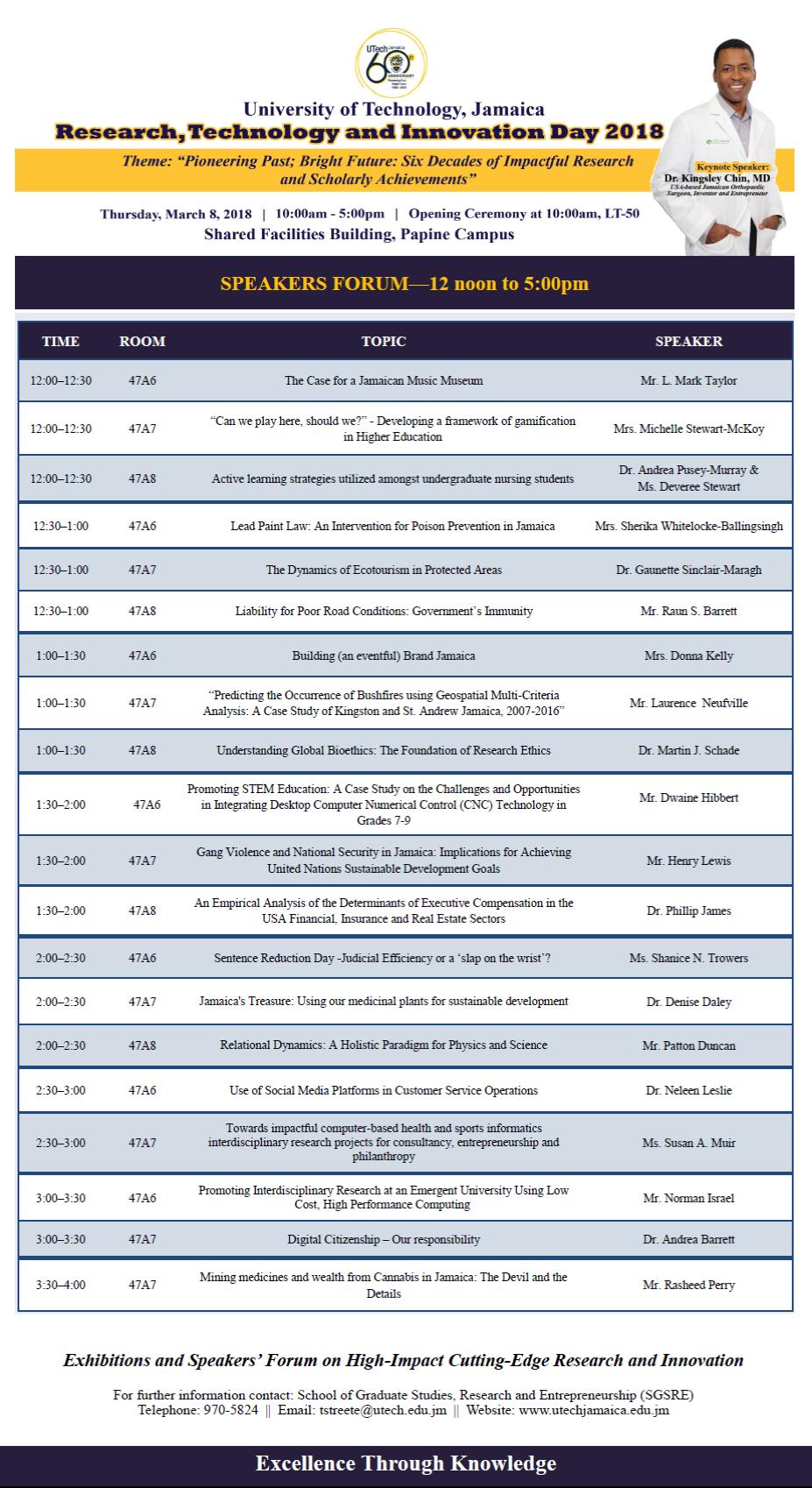 End. 
Contact:
Michelle Beckford (Mrs.)
Corporate Communications Manager
University of Technology, Jamaica
Telephone: 970-5299
Email: mbeckford@utech.edu.j