UTech, Jamaica Researchers Present Findings of Feasibility Study on Pet Tourism
… Estimated Potential to Increase Tourist Arrivals by 2% with Earnings of Over US$ 17 Million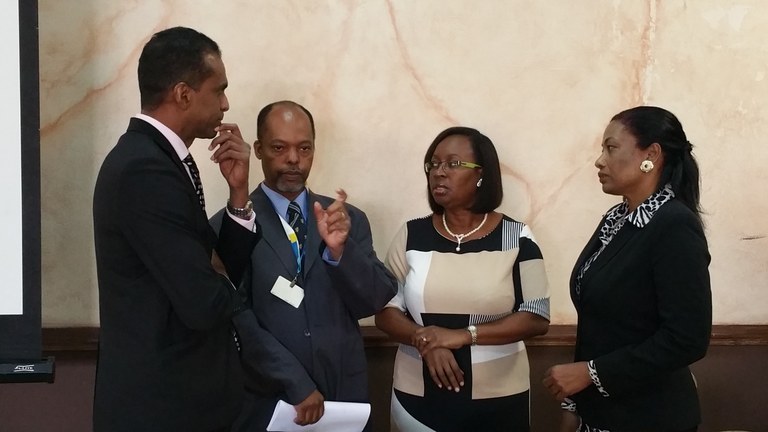 From left, Dr. Carey Wallace, Executive Director, Tourism Enhancement Fund (TEF), Mr Nigel Cooper and Mrs. Deanna Marchalleck, Programme Directors, School of Hospitality and Tourism Management (SHTM) and Dr. Gaunette Sinclair-Maragh, Head of School, SHTM  exchange ideas following the presentation of research findings of a feasibility  study on "Allowing Tourists to be accompanied by their Pet Dogs while Vacationing in Jamaica" presented by researchers Mr Cooper and Mrs. Marchalleck held Friday, April 7, 2017 at Wexford Hotel in Montego Bay.
UTech, Jamaica researchers are estimating that if the applicable laws in Jamaica were amended, the country could over a five-year period realize a two per cent increase in the number of tourist arrivals from the USA, resulting in earnings in excess of US$17 M.  The market estimate was determined against the background that over 2 million live animals are transported by airlines every year in the United States.
These and other findings of a recently concluded feasibility study on "Allowing Tourists to be accompanied by their Pet Dogs while Vacationing in Jamaica" were presented by UTech, Jamaica researchers Mr Nigel Cooper and Mrs. Deanna Marchalleck, Programme Directors, School of Hospitality and Tourism Management (SHTM) at a special presentation held Friday, April 7, 2017 at Wexford Hotel in Montego Bay.
The study examined the market, operations and legal/technical feasibility of the pet tourism industry in Jamaica and presented recommendations for further discussions with stakeholders to determine how Jamaica can move forward with a pet-friendly tourism niche industry based on the research results. Research data for the study was gathered through discussions and surveys conducted with hoteliers and other members of the hospitality and tourism industry across Jamaica and the Jamaica Veterinary Association. 
The researchers reported that while "there was no consensus among hoteliers from Negril, Montego Bay, and Ocho Rios, most were not opposed to the concept of  dog-friendly services.  However, for their specific properties, many requested more details on the actual operations and the expected impact on other guest before they would fully commit to offering such services, while 97 per cent of the respondents from the Jamaica Veterinary Association supported a  Pet Passport model to be implemented in Jamaica as is used in St. Lucia and other countries."
The researchers shared that several Caribbean islands, including St. Lucia, Dominica, and the Cayman Islands utilize a Pet Passport system, which allows dogs that meet the requisite conditions, such as having a microchip with evidence of relevant treatments, to enter the country without quarantine.   The researchers also visited twenty pet-friendly hotel chains in Canada where it was determined that two to five per cent of hotel guests travel with pets, primarily dogs, during Summer months. 
Amending the1948 Animals (Diseases and Importation) Act 
Pointing out that Jamaica is still enforcing the 1948 Animals (Diseases and Importation) Act  whereby dogs can only be imported directly from Great Britain, Northern Ireland, or the Republic of Erie, originally intended to safeguard against rabies, the researchers argued that Jamaica could amend these laws to allow pets under the right conditions and structured system, to enter the island along with tourist travellers in order to benefit from the potential tourism earnings.
The researchers highlighted that the Pet Passport system model used with other controls should provide sufficient safe guards against importing a dog with rabies.  The establishment of pet-friendly hotels in Jamaica would also require amendments to aspects of the Public Health Act to allow dogs conditional access to public spaces such as restaurants.  Public education and training of tourism industry and airport personnel would also play a critical role in addressing cultural norms and current behavioural attitudes towards dogs considered in other countries to be like family members by their owners.
Taskforce
The researchers recommended the establishment of a multi-sector Taskforce comprising representatives of the Jamaica Hotel and Tourist Association (JHTA), the Ministry of Tourism, the Ministry of Health, the Ministry of Agriculture, TPDco, the Tourism Enhancement Fund, the Parish Councils, UTech, Jamaica and other relevant stakeholders to examine all the issues pertinent to the implementation of introducing a pet-tourism industry in Jamaica.
The research was funded by UTech, Jamaica's Research Development Fund (RDF) managed by the School of Graduate Studies, Research and Entrepreneurship (SGSRE).  Dr. Paul Ivey, Associate Vice President, SGSRE who chaired the presentation ceremony, in his opening remarks noted that UTech, Jamaica as the national university is committed to undertaking "purpose-driven research directed at solving problems that have applicability and relevance to sectors in the society."  Dr. Ivey asserted that the research on the feasibility of establishing pet-friendly hotels to boost revenue in the tourism sector provides a good basis on which public policy can be impacted.
Head of the School of Hospitality and Tourism Management (SHTM) Dr. Gaunette Sinclair-Maragh in congratulating the researchers, said that part of the School's strategic mission is to increase practical and solution oriented research output to impact tourism development tin Jamaica.
The presentation ceremony for the findings of the UTech, Jamaica research was sponsored by the Tourism Enhancement Fund (TEF).   Speaking at the event, recently appointed Executive Director, TEF,  Dr. Carey Wallace in commending the work of the UTech, Jamaica researchers told the gathering of hospitality industry partners, educators and students  that it is important for policy to be driven by research rather than by opinions.  Acknowledging that many persons may be dismissive of the pet-tourism feasibility research, Dr. Carey asserted that "integrating this particular niche market where families from overseas who include pets as members of their family can actually travel to Jamaica to holiday and enjoy the benefits of sea and sun … is worth the expense in getting the research done." He suggested that the tourism niche may be best filled by smaller hotels which are better positioned to open their properties to families and their pets.
The TEF Executive Director noting that Government should "put more red carpets in than red tape,"  added that "with the advent of modern technology, I am sure that we can open our minds and approach it from a research standpoint to find a solution for implementation in the short term." 
 End.
Contact:
Michelle Beckford (Mrs.)
Corporate Communications Manager
University of Technology, Jamaica
Telephone: 970-5299
Email: mbeckford@utech.edu.jm