UTech, Jamaica to Launch Caribbean Case Researchers Association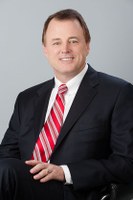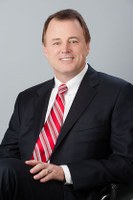 Keynote Speaker, Mr. John Suranyi, Chief Executive Officer, Digicel Play - Caribbean 
The University of Technology, Jamaica (UTech, Jamaica) through its College of Business and Management (COBAM) will launch a Caribbean Case Researchers Association (CCRA) at a special ceremony to be held Thursday, July 6, 2017 at Lecture Theatre 49 (LT49), Shared Facilities Complex, UTech, Ja. Papine campus.  Keynote speaker at the launch ceremony will be Mr. John Suranyi, Chief Executive Officer, Digicel Play.   Mr. Suranyi joined Digicel in January 2015 with more than 30 years' experience in the cable and satellite industry across a number of Fortune 500 companies in the United States.   
The Caribbean Case Researchers Association is intended to develop a critical pool of local and regional case writers and researchers to impact teaching, learning and research in business education (and other disciplines that use teaching cases)  in Jamaica and the Caribbean. 
Prof. Paul Golding, Dean, College of Business and Management notes that the CCRA will fill the gap for teaching cases that represent the reality of the business landscape of Jamaica and the Caribbean.  He noted that, "the CCRA will serve to further enrich the learning experiences by developing cases that increases the understanding of the issues facing local companies as well as to highlight real-world management issues."
President-Elect of the North American Case Research Association (NACRA), Dr. Jeffery P. Shay will bring greetings at the launch and will endorse the CCRA, with full affiliation expected in October 2017 at NACRA's board meeting.  
Dr. Jeffrey P. Shay, past and incoming President of the North American Case Research Association (NACRA) in endorsing the new association notes that the "NACRA is excited to see case research and teaching growing rapidly around the world and strongly support the July 2017 launch of the Caribbean Case Research Association.  The NACRA looks forward to maintaining a strong relationship with this new organization".  
Case Study Workshops
The University will also host a series of customized workshops to be held from July 5 – 7, 2017 led by Dr. Shay on Case Teaching and Case Research and Writing.  Participants will learn how to design a course using case studies, prepare for and lead case discussions, recognize and evaluate opportunities for case research, effectively plan for case data acquisition, manage practical and ethical dilemmas in case research and the prepare effective instructor  manuals.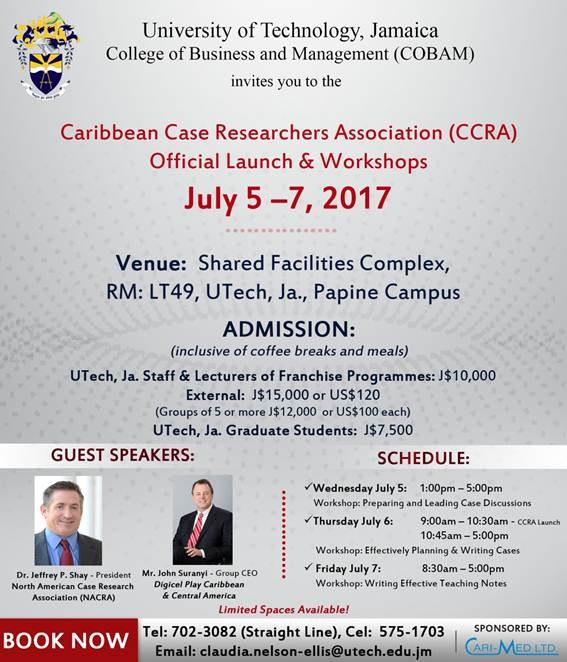 End.
Contact:
Michelle Beckford (Mrs.)
Corporate Communications Manager
University of Technology, Jamaica
Telephone: 970-5299
Email: mbeckford@utech.edu.jm