Message from University Registrar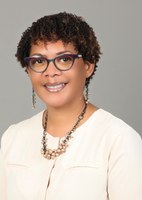 Dear Graduates,
As Vice President and University Registrar of the University of Technology, Jamaica, it is with immense pride and joy that I extend my heartfelt congratulations to each one of you on the successful completion your respective courses of study.
This is a remarkable achievement, and I have no doubt that your dedication, hard work, and passion will continue to serve you well in all your future endeavors.
Your degree gives you a competitive advantage as you venture into the job market. I encourage you to approach each new challenge with the same determination and enthusiasm that you demonstrated here at the University of Technology, Jamaica. You have proven yourselves to be exceptional individuals, and I have every confidence that you will make a positive impact in your chosen fields.
Remember, the knowledge and experiences you have gained during your time here are not only tools for your personal and professional growth, but also a foundation upon which you can build a bright and promising future.
I urge you to pay it forward. Share your knowledge, mentor others, and always be a source of inspiration to those around you. Your contributions can make a significant difference in the lives of others, just as you have been influenced by your time here at the University of Technology, Jamaica.
We acknowledge all those whose support was vital to your successful academic journey, families, friends, sponsors, advisors, and the university community.
No matter where life takes you, please know that you will always be a UTech, Jamaica Knight and take with you the Core Values of the University of Technology, Jamaica: Respect, Accountability, Integrity, Service Excellence, Innovation, and Teamwork.
These values will guide you in your future endeavors and help you make a positive impact on the world.
Once again, congratulations on this incredible achievement. May the future hold endless opportunities, and may you continue to achieve great things.
Marion Brown
VP & University Registrar